Designed with today's fast paced health conscious consumer in mind. This is a healthy low-carb, high protein, gluten free grab-n-go snack or meal that is tasty enough for children and adults alike.
---
WHY CHEESEWICH?
Nomiated for the Most Innovative Product Award.

Is designed with todays fast paced lifestyle.

Focus on health conscious consumer needs - 0 carbs, Gluten Free, 14-16 Grams of Protein.

Satisfies Moms looking for a great lunch or snack.

Fast Grab-N-Go Snack or Meal.

Vaccum sealed.

Highest qualtiy salami & all natural Cady Creek Cheese.

Refrigerated 6 month shelf life.

---
ITEM # 550400 - 24/2.5 oz. - Cheesewich Cheddar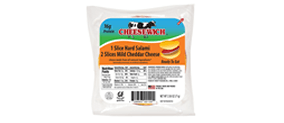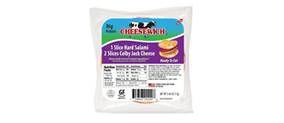 ITEM # 550401 - 24/2.5 oz. - Cheesewich Colby Jack
ITEM # 550402 - 24/2.5 oz. - Cheesewich Pepper Jack